Former NCFA Chair Inducted into Saskatchewan Agriculture Hall of Fame
April 8, 2022 | Videos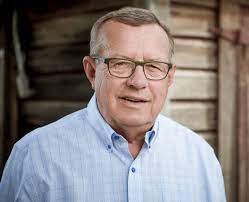 Congratulations Mr. Bill Jameson
Recently, four individuals were announced as the newest inductees to the Saskatchewan Agricultural Hall of Fame (SAHF) in recognition of their outstanding contributions to Saskatchewan agriculture – one of those inductees being Cattle Feeders' own Bill Jameson.
For nearly his entire career, William (Bill) Jameson has been working to improve the cattle feeding and beef industry here in western Canada. A founding partner of JGL Livestock, former president of the Saskatchewan Cattle Feeders Association, and chair of the Saskatchewan Cattlemen's Association, Bill has led many significant industry organizations who have had significant impact on where our industry is today. During his time with SCFA, Bill represented SCFA on the National Cattle Feeders' Association Board from 2007-2015, serving as Chairman from 2010-2013.
Bill presided over NCFA when the industry had to manage a variety of complex issues that impacted the cattle feeding industry such as: Country of Origin Labelling; border issues impacting the trade of live cattle; labour shortages; industry transformation; the creation of Canada Beef Inc, and rules around the use of antimicrobials. He also brought the cattle feeder perspective to the Beef Value Chain Round Table and to elected representatives at provincial and national levels of government.
Bill has also held various leadership positions at the provincial and national levels and has worked to ensure longevity in the industry by supporting the next generation of leaders through programs such as the JGL Legacy Scholarship and his personal mentorship and development of others.
National Cattle Feeders' Association wishes to congratulate Bill on his lifetime achievements, culminating in this recognition that will remain immortalized in the Saskatchewan Agriculture Hall of Fame.
Bill's induction details, along with those of the other deserving recipients can be found here on the SAHF website.
The SAHF will be recognizing the 2021 inductees with a ceremony and dinner April 9th, 2022, delayed due to former restrictions.