The Canadian Feedlot Animal Care Assessment Program
The Canadian Feedlot Animal Care Assessment Program is an objective, science-based, and practical animal health and welfare audit program designed specifically for confined beef cattle feedlots.
Feedlot Audit Guide
The feedlot audit guide was developed by feedlot producers, veterinarians, animal scientists, and the processing industry's beef welfare experts to provide the beef industry with a credible and widely accepted feedlot animal care and welfare assessment program that can be used by all stakeholders to improve animal care and provide reassurances to consumers and the public that feedlot cattle are raised humanely. This Audit Guide/Tool has been certified by PAACO (Professional Animal Auditor Certified Organization) and recognized by NFACC (National Farm Animal Care Council) and CRSB (Canadian Roundtable of Sustainable Beef Production).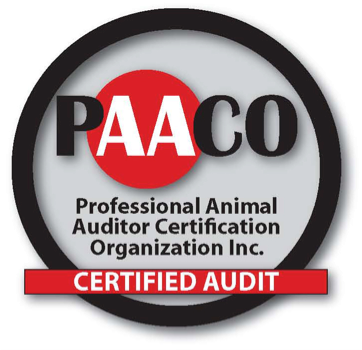 PAACO Beef Feedlot Welfare Auditor Training – Lethbridge
Step 1: Register for the eLearn Training Program
Processors are encouraging all feedlot producers to participate in this industry training and certification:
Step 2: Login to the eLearning Training
Once you receive your registration confirmation email you can login to the training program:
"As a company that's built our reputation on serving safe food for almost 50-years, animal health and welfare is very important to McDonald's Canada and our guests as we know that healthy animals provide safe food. We are proud that animal welfare has been part of our legacy of commitment for decades and is now one of the main components of our recently concluded Sustainable Beef Pilot project. Given our focus on animal care and independent third party verification, we commend The National Cattle Feeders Association for receiving Professional Animal Auditor Certification Organization (PAACO) certification of their Feedlot Animal Care Assessment tool. The certification is a testament to the NCFA's leadership in working with processors, producers, and industry technical experts to produce a tangible tool that focuses on improving the health and welfare of animals raised for food, benefiting everyone in the value chain." —Jeffrey Fitzpatrick-Stilwell, Senior Manager Sustainability, McDonald's Restaurants of Canada Limited